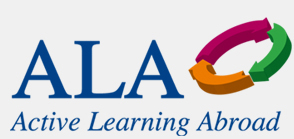 Destinations


Internships Opportunities

Customized &
Faculty-Led Programs

Resident staff and office
All our staff has international experience. All of them have studied abroad and personally know what is to be in a foreign country. Its dedication and professionalism make possible for ALA to provide an essential part of our additional offering: personal attention and constant support to our students. Consequently our students are always guided to be in the best
possible condition on health and safety. At the same time our staff knows Salamanca perfectly and recommends our students the best cultural and social options that the city offers along the year.
ALA's facilities in Salamanca consist in a three story building with a total of 1,500 sq m, located at the heart of the city, in a pedestrian and commercial area. It is equipped with 12 classrooms, a library, a computer lab, a residence hall with 55 beds, meeting rooms, administrative space, and common rooms, all of which are air conditioned. We receive students from all over the world making our facility a really international academic center.
Copyright © 2017. ALA Active Learning Abroad. All rights reserved. Legal Note and Privacy . Contact us