ALA's ACADEMIC CENTERS
Having our own Academic Centers allows us to invite foreign academic institutions to organize tailor made programs, and to make use of our classrooms and office space.
SALAMANCA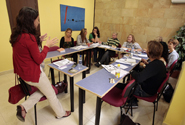 In Salamanca we have a three storey building with a total of 1,500 sq m, located at the heart of the city, in a pedestrian and commercial area. It is equipped with 19 classrooms, a library, a computer lab, a residence hall with 43 beds, meeting rooms, administrative space, and common rooms, all of which are air conditioned. We receive students from all over the world making our facility a really international academic center.
MADRID
ALA is proud to offer our students and affiliated academic institutions our Academic Center in Madrid. It is centrally located and very well communicated via metro, train and bus. It is located in down town Madrid where many international and national companies have their headquarters. Our center is in a commercial area full of shops, restaurants and other services. We receive Spanish students who want to learn English and other international students who want to study in the capital of Spain. Our facility is air-conditioned and WI-FI and it has classrooms, offices, and a student lounge area.